Dňa 12.9.2019 došlo v Telnici u Brna k oficiálnemu otvoreniu historicky prvého OK TRUCKS Centra pre Českú republiku a Slovensko. Na celkovej rozlohe 2 720 m2 bude OK TRUCKS ponúkať celý rad jazdených vozidiel všetkých typov a kategórii pochádzajúcich väčšinou zo spätných výkupov so zárukou od spoločnosti IVECO a s kompletnou ponukou služieb a firemných riešení.
OK TRUCKS pôsobí už vo viac ako 20 krajinách. Profesionálny tím podporuje našich zákazníkov vo výbere najvhodnejšieho jazdeného nákladného vozidla podľa konkrétneho využitia v ich firme. Celý rad kontrol a inšpekcií vykonáva na našich vozidlách nezávislý subjekt. Na základe charakteristík, ako je vek, počet najazdených kilometrov, technický stav, atď. sú vozidlá rozdelené do troch kategórií - Premium, Comfort a Basic - s cieľom čo najlepšie vyhovieť potrebám zákazníkov.
Okrem toho ponúkame pre vozidlá OK TRUCKS servisné kontrakty, rozšírené záruky a komplexnú poruchovú službu Mobility Care s celoeurópskym pokrytím.
Tešíme sa na vašu návštevu v Telnici u Brna.
Video z otvorenia si môžete pozrieť tu:Youtube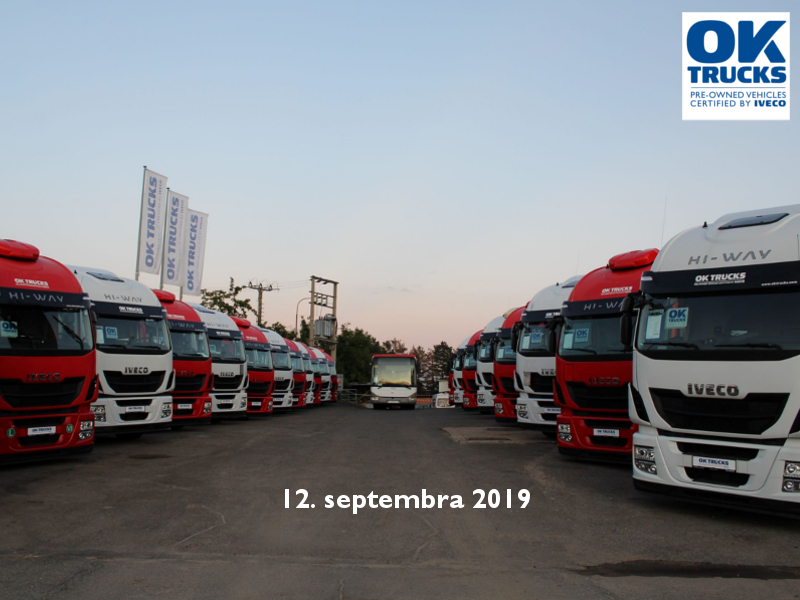 Vyplňte prosím formulár. V nasledujúcich dňoch Vás budeme kontaktovať
Subscribe to newsletter
Get notified via e-mail on OK Trucks´ offers and news.